TALK ON ANCIENT ROMANCE
Study for Talk on Ancient Romance: Composition II, 1896



The idea of Talk on Ancient Romance was conceived during a trip to Kyoto in the autumn of 1893, immediately after Kuroda's return from France. While walking around Kiyomizu Temple, Kuroda stopped at Seikan Temple, which was located at the foot of Emperor Takakura's mausoleum, and listened to a monk telling a tale of tragic love. This gave him a wondrous inspiration as if drifting away from reality. Two years later, following the incident regarding Morning Toilette, a painting of a nude, Kuroda acquainted the minister of education, SAIONJI Kinmochi. Through Saionji, Kuroda received a commission from the Sumitomo family and began working on Talk on Ancient Romance from the following year. As the charcoal drawings in our collection indicate, he made detailed sketches of the body as a whole, in detail, and in the nude. He then executed studies in oil before starting the final version. It was two years later in 1898 that he finally completed this project. As the final version was burnt in a fire, the only clue to the overall image of the original painting is this Compositional Study II. Judging from the elaborate process in completing this painting and the number of studies executed, it was one of the most representative works among those produced at the climax of his career.


---
| | | | | |
| --- | --- | --- | --- | --- |
| | | | | |
| Composition 1, 1895 | a View of Seikan Temple, 1895 | Composition II, 1896 | a View of Seikan Temple, 1896 | Gate of Seikan Temple, 1896 |
| | | | | | | |
| --- | --- | --- | --- | --- | --- | --- |
| | | | | | | |
| a Girl mower, 1896 | a Monk, 1896 | a Maiko, 1896 | a Nakai-maid, 1896 | a Man, 1896 | a Maiko, 1896 | a Man and a Maiko, 1896 |
---
Sketches
[Composition]
1896
[Hands]
1896
[a Maiko]
1896
[a Man]
1896
[Legs]
1896
[Hands]
1896
[a Man]
1896
[a Nakai - maid]
1896
[a Nakai - maid]
1896
[a Maiko]
1896
[a Maiko]
1896
[a Woman's face]
1896
[a Monk]
1896
[Monk's Hands]
1896
[a Girl mower]
1896
[a Girl mower]
1896
[Monk's legs]
1896
[materials]
1896
---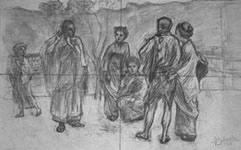 Attempts at Compositions
This painting began from the emotion caused by the story Kuroda heard in invigorating surroundings. Instead of depicting the story itself, he attempted to reproduce the inspirational situation through a group composition. Although, in a respect, it was an example of a "proper" work, a "composition", which Kuroda had frequently been advocating since his return from France, the result was a contemporary genre painting. The studies in oil and the charcoal drawings for this painting were all submitted to The 1st Hakuba-kai Exhibition and were influential in the emergence of fine examples of Meiji genre painting such as Evening at the Ferry by WADA Eisaku and The Lesson by SHIRATAKI Ikunosuke.

Athough Kuroda made further attempts at compositions such as Wisdom, Impression, Sentiment, judging from the finish of such works, the artist himself was not fully satisfied with them. Compositions as an intensive manifestation of academicism were thus a lifelong theme for Kuroda.