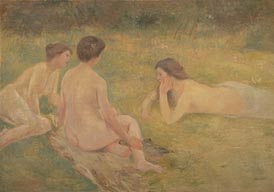 Flowering Field
1907-1915, oil on canvas, 126.5 by 181.2cm
The 13th Hakuba-kai Exhibition

This is the only large scale work Kuroda executed in the latter part of his career. Having begun making sketches during the Meiji era, he resumed working on it in 1915, but it was never completed. It is considered to be based on a painting by his teacher Raphael Collin, Three Beauties in the Field (Maeda Ikutoku-Kai), and is closest in style among Kuroda's entire マuvre to Collin. It was from around this period that Kuroda got involved in various social activities and became very busy.