---
Dispute over Nude Paintings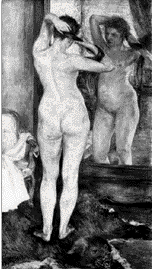 I n April 1895, The 4th National Industrial Exhibition took place in Kyoto (in Okazakicho, Kamigyoku from 1 April to 31 July). Kuroda submitted Morning Toilette, which he had executed while studying in France, and was awarded second prize. Yet, once the exhibition opened, being a nude painting, it created an unexpected stir. Critiques which appeared in the newspapers at that time denounced the decision to exhibit this painting in public. For example, the following article criticizes it from the point of view of public moral.

"The nude beauty exhibited at the Exhibition in Kyoto is indeed a vital problem. Although he may be a talented artist, let me argue for the nude's sake. How unbecoming this is! Does a nude painting really represent the essence of art? [...] If his nude truly sufficed to demonstrate his artistic talent, I would not necessarily prohibit him from painting one. However, when it comes to displaying it in front of the general public, it is absolutely disgraceful. Such artists are devoted to their own theory of art and have forgotten their influence on social customs and manners." ('Hadakabijinga wa Kore wo Hiseyo [Keep Nude Paintings a Secret]', Miyako Shinbun, 11 May 1895.)

I n those days, even the artists themselves were hesitant about nude paintings and control by the authorities over nudes and nude paintings was tight. Despite the circumstances, Kuroda ventured to present his own work. He was in fact provocative of the attitude expressed by the Western painting circle in Japan and the Japanese society towards nude painting and intended to enlighten them from the moment he started working on this painting. Thanks to the president of the judging committee, KUKI Ryuichi's judgement, on this particular occasion, the painting was left on display. As for Kuroda, other than writing the following letter to KUME, he kept silence in Kyoto.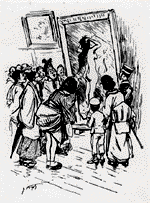 "I cannot think of any reason to abandon nude painting. There is nothing wrong with the international standard of aesthetics. It is actually necessary and should be promoted for the sake of the future of Japanese art. [...] I don't care what the numerous people with no hope ahead of them say. By the nature of things, I win. Whatever happens, I am prepared to act in line with that painting. ('Hizume no Ato (1) [Hoofmarks], Kofu no.3, September 1905.)

As an art educator, Kuroda continued to encourage his students to draw nudes. He himself also continued to produce nude paintings such as Wisdom, Impression, Sentiment (Tokyo National Research Institute of Cultural Properties) and submitted them to exhibitions. However, in some strange cases, following instructions given by the authorities, works in which the motif was a nude were displayed exclusively in a separate room or were exhibited with a cloth covering the lower part of the body. Resistance and regulation regarding nude paintings thus continued for quite a while.


---

Restoration Work
Tokyo National Research Institute of Cultural Properties owns Wisdom, Impression, Sentiment by Kuroda Seiki. This work consists of three nudes in different poses, which were experiments in allegorical expression with the human body. The background of each nude was painted in gold, which, over the years, was suffering from countless tiny cracks that were curling and in need of proper restoration. A three-year project to restore each one of the paintings every year started in 1995 and the restoration work was completed.

On examination, the cause of the cracks in the gold background appears to have been the difference between the consistency of the glue used for the primary coating of the canvas and that for the gold coating. As the glue used for the gold coating was thicker than that for the primary coating, as it became dry, the upper layer of gold contracted more and resulted in pulling up the foundation.

In addition, the canvas had aged so that the four corners at which it was attached to the cradle had shrunk and loosened. The rises were carefully restored using a fish paste (fig.1). Paint that had peeled off from the bodies was touched up with removable acrylic paint. Following the retouch, the paintings were varnished and relined with new cradles (fig.2).



(fig.1)


(fig.2)