A woman sits enjoying the cool against a background of a lake, Ashinoko in Hakone, and mountains on the far shore. Although this painting is nowadays widely known under the title Lakeside, it was originally submitted to The 2nd Hakubakai Exhibition in 1897 entitled Summering. Together with Wisdom, Impression, Sentiment, it was also exhibited at the International Exposition held in Paris in 1900.


---
Mrs. Teruko Kuroda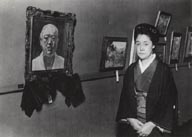 Mrs. Kuroda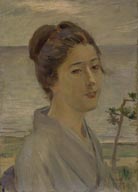 Kuroda spent the summer of 1897 in Hakone with his wife, Teruko. It was during this stay that this painting was executed. His wife recalls the occasion as follows:
"It was when I was 23 years old. I went to watch my husband at work on the lakeside. He told me to sit down on the rock over there, so I did and then he said, 'Good, from tomorrow I shall study that.' There were rainy and foggy days so that it took about a month in all."

The sombre landscape of the Japanese highlands in the summer and the humid atmosphere are exquisitely captured with a pale colour tone and smooth brushstrokes in a snapshot-like composition. Lakeside


---

Comments Made by Kuroda
"Nowadays, there are quite a few different kinds of pictures in Japan. It seems awkward to refer to them collectively as nihonga [Japanese painting]. The reason is that the traditional so-called Japanese painting differs in taste from paintings such as the relatively new oil painting. However, although the way of painting may be different, the fact that oil painting can be done in Japan, i.e. the fact that it can be created by the Japanese mind, proves that it has finally been Japanized and become a slightly different Japanese-style oil painting."
('Kaiga no Shorai [The Future of Painting]', in Meika Homonroku [A Record of Visits to Celebrities], ed. by Shokei Ishikawa, 1902, vol.I.)



"In short, the Westerners place emphasis on the finish, whereas the Japanese emphasize the subject and the amusingness. Consideration of how interesting the subject is is a feature of the Japanese people and Japanese-style painting has always made great efforts on this point. In the future, once Western-style painting develops in Japan and the finish can also be given due consideration, a style characteristic of Japan will emerge."
('Bijutsu Sawa [Chatting on Art]', Shumi, January 1912.)



"After all, the world of Western-style painting in Japan is still amidst chaos. In twenty or thirty years time, even though it may not be fine enough to boast abroad, Japanese Western-style painting should become presentable. At present it is still in its childhood, but, by then, it should become a proper adult. I myself have still only got as far as becoming able to sketch. I shall turn 50 this year, but am no more than a student as far as art is concerned. I am not good at painting considering my age. Various things took up my time so that I have spent relatively little time studying. I hope to study a lot more from now on."
('Watakushi wa Kou Omou [This is What I Think]', Mizue, November 1916.)


---

stamp (1967)

Lakeside is one of Kuroda's most representative works and is still popular among many people to this day. The reason it is easily recognized is probably that the original painting, which is on permanent view at the Kuroda Memorial Hall, has been reproduced in all kinds of media. Besides books of paintings, it has appeared, for example, in children's textbooks and in the form of a stamp. It has become so familiar that it is accepted as the image of the Meiji era or the image of a modern Japanese "beauty".