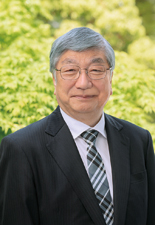 Fiscal year 2020 is the last of the Fourth Medium-term Plan (fiscal years 2016 - 2020) for the National Institutes for Cultural Heritage. In this plan, the Tokyo National Research Institute for Cultural Properties has set the following four points as its social mission: 1) to conduct comprehensive study, ranging from basic to advanced and pragmatic, of cultural properties of Japan, both tangible and intangible, and thereby to fulfill its role as the center of the study of cultural properties in Japan; 2) to provide training for persons in charge of cultural properties, give professional advice to local public bodies, and thereby to contribute to the protection of cultural properties; 3)to fulfill its role as the center of conservation science and restoration techniques in Japan; and 4) to fulfill its role as the center of international cooperation in the protection of cultural heritage by executing international exchange of related research throughout the world, cooperating in projects for the protection of cultural properties, educating specialists in the field, and accumulating and utilizing relevant information.
 Each of the four research departments in the Institute is dedicated to accomplish the above mission. The Department of Art Research, Archives and Information Systems is engaged in the accumulation and dissemination of various information related to tangible and intangible cultural properties in addition to conducting fundamental research concerning works of fine and applied arts. The Department of Intangible Cultural Heritage conducts research on techniques necessary for the manufacture of tools and procurement of materials indispensable for the preservation of cultural properties in addition to its conventional research on such intangible cultural properties as traditional music and drama, performing arts and craft techniques, as well as on intangible folk cultural properties such as folk performing arts, manners and customs, and craft techniques.The Center for Conservation Science conducts scientific research associated with the preservation of cultural properties and practical fundamental research on materials and techniques for restoration; it also promotes the construction of an integral research environment for conservation within the National Institutes for Cultural Heritage. The Japan Center for International Cooperation in Conservation focuses on contributing internationally from the point of view of culture by conducting joint research and training programs, such as education of specialists on cultural properties and transfer of techniques for conservation, that meet the needs of a given country in response to requests from various countries in Asia and other regions of the world. We take great pleasure in informing you that each department continues to conduct its research activities.
 Nine years have passed since the Great East Japan Earthquake and four years have passed since the 2016 Kumamoto Earthquakes. The Japanese Cultural Heritage Disaster Risk Mitigation Network that started in fiscal year 2014 with the headquarters of the National Institutes for Cultural Heritage at the center will enter a new phase. The Institute seeks to employ the lessons that have been learnt as a result of recent disasters and to analyze relief activities to summarize information regarding techniques and knowledge for aiding disaster-stricken cultural properties. It will also continue to conduct research on methods to preserve cultural properties that take into account prevention and reduction of damage.
 Activities related to the protection of cultural heritage internationally cooperation are required from all over the world. To conduct these activities, it is essential to enhance and develop a system of cooperation among organizations and experts in related fields in Japan. In that sense, the Japan Consortium for International Cooperation in Cultural Heritage which was established in 2006 is of great significance. Much is expected of its activities. The Institute is commissioned to operate the Secretariat of the Consortium and hopes to be involved actively in its activities.
 We will endeavor to further develop this Institute as a research organization for comprehensive study associated with the protection of cultural properties, managing it efficiently and effectively. We ask for your understanding, support and cooperation.


SAITO Takamasa


Director General
Tokyo National Research Institute for Cultural Properties